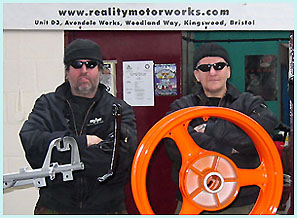 Where do you start? Probably in the early eighties when Griff was employed at Bristol Classic Bikes (now defunct) in Lawrence Hill. A prolific bike builder and restorer this was the obvious route for him to take. Having worked as a chrome plater and polisher he realised the value of a quality powdercoating operation specialising in motorcycles.
Opening his first emporium in the late eighties under the name of "The Electrostatic Paint Company" he offered top line coatings and polishing for the full spectrum of motorcycling. From GSXR to Golden Flash, and everything in between, he brought his unrivalled knowledge and a huge network of contacts and services to bear in establishing a premium quality specialist business.
Following on from the shared premises he went out on his own with "Griff's Motorcycle Services" in the late 90's, expanding the range of services to pretty much what they are now. Still working on his own, with occasional forced labour from his friends, it was decided in 2002 to expand the operation to fully realise the potential of the business. This entailed a move to larger premises and the taking on of full time staff - Nick.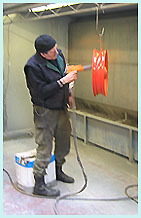 .....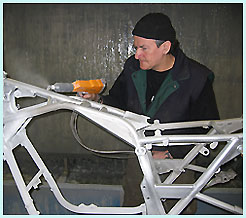 .....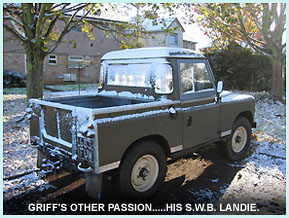 For the next 2 years expansion, efficiency and top quality was the name of the game, and man but did we enjoy ourselves!! Landrovers, cars, more motorbikes than we could ride and a never ending stream of happy (?) customers, all combined to make those 2 years very memorable.
Reading the memorial will give you the understanding that Griff was struck down by cancer in 2006 and he left his business in my capable, or so he thought, hands. We have continued to improve our services, both in quality and efficiency, and pride ourselves on being up there with the best.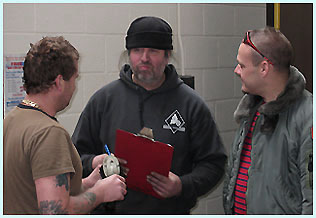 We treat every job as if it was our own and the idea of a one-stop-shop is pretty accurate and it couldn't be done without you, so why not get in touch and give us a try?